AKA

to

re

claim

tyre

s

avings

!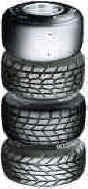 Yes, more good governance !

NKC delegate, John McCleverty, announced today that the AKA would be moved to instruct all contracted tyre suppliers to the AKA to reduce the cost of tyres at the import price by 3% - this is as a result of the government tariff being removed on some products.

This will be applied to all imports from last July in accordance with the tyre contracts and government legislation.
Mr. McCleverty said the new NKC had decided to continue its governance responsibilities in keeping costs to karters minimised and that meant windfalls to suppliers would be monitored.
"It's no great shake for the industry because without karters, there is no industry. A soon as everyone realises this, the whole sport will benefit."
A working party is likely to be formed to track all the imported goods from the Gov approved date so as to ensure the 3% tariff reduction will be applied from the effective date , and that all previous non passed on reductions will be billed against the contractor and placed into the AKA tyre royalty fund.
Ed: I'm happy to help.

( But someone must keep the South Australians informed as information on this site is not permitted to be seen by karters in South Australia - sanctions apply !)